Written in cooperation with over 30 Dutch dog experts
Below you'll find some of the Dutch dog trainers who were part of bringing about the 4 puppy training books.
Peter Beekman of Kynotrain
---
Suzanne Welling of Martin Gaus Hondenschool Lelystad
---
Alexandra Wilkinson of ikwileenbravehond.nl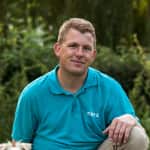 Frank Wennekers of Speurhondenschool Care4Dogs
Claudia Nieuwkerk of Hondenschool Zwolle
---
Isabelle Sels of Martin Gaus Hondenschool Leopoldsburg
Sonja Verhoef of Coachjehond
Pascale Zwart of TheraPYR4Dogs
Nicky Gootjes of Gedragscentrum Samenspel
Ewald Nagels of Dogtrack
Puppybee.com customer service
Welcome to Puppybee.com! Let me help you get your questions answered... Check out the FAQ section first. If that doesn't help, I would love to hear from you and address your inquiry the best I can.
Can't find your answer below? Email me [email protected]. Please, please be as descriptive and precise as possible. The more thought you put into your question the better the odds of me being able to provide a useful response.
What customers are saying
What people say... Leave your rating
Order by:
Be the first to leave a review.
Show more